Phones - Desk and Work Area
Introduction
The desk and work area phones are the majority of the phones and are the topic discussed.
Which phones should be purchased? This depends on
location - where are the phones going to be used?
requirements
phone features
Location
Phones are:

desk phones

power users
regular users

work area phones
The work area phones can be simple and reduced features. The regular desk phone users only need a work area phone for their desk. The power users need the extra flexibility to facilitate their job.

Phone Requirements
all users

manage up to 8 simultaneous calls
page site
intercom door
2 lines to allow a call on hold plus a line place another call
retrieve email
DND


power users

page 1m, SDSS, 3.5m and common phones
manage conference rooms

contact lists
handling multiple calls in parallel

work area phones
phone IT management

freepbx end point manager supports the phone
support a few phones covering most needs
phones should be easy to provision
Phone Features
Lines - each line to a phone supports one phone call. For example, a conference call with 5 lines supports 6 callers. Most users need 2 lines.

BLF Function Keys - programmable busy lamp field buttons with LED.
Programmable soft buttons
Gigabit network

Phones Tested
Discussion
The requirement that a simple phone has access to all 8 lines to simulate an old key system limits the number of SIP phones available. It forces phones to have a high line count. A simple phone is carefully setup for just a few simple functions with little or no growth for new features.

Because phones broadly fall into simple phones and power user phones, this gives some flexibility when buying a phone. The flexible, power user, desk phone is now becoming more like the cell phone with a better interface, programmable, customizable, and able to handle large volumes of calls. By using the PBX computer to switch just the calls a user needs, and a smart phone to display just the active calls, a phone does not need a all the lines. The smart phone is extensible and can handle from 8 lines to hundreds of lines without changes.

Users should be given the choice to choose between a simple phone and a power user phone.

Sangoma S500

2016 model Sangoma SIP 500 power user phone

phone applications

conference management
parking lot
contact list
5-way conference
gigabit network interface
expandible with new applications


36 soft programmable buttons and multiple pages of content. Buttons are used to navigate the phone's features.
fully integrated with freepbx
provisioning is extremely simple
can be reloaded and rebooted from freepbx
HD sound
Sangoma a long time VOIP manufacturer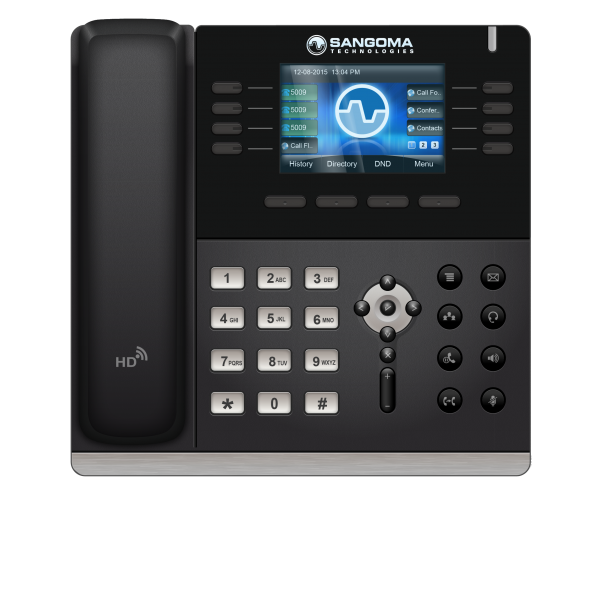 Snom S320
This is a simple phone that is an older generation SIP phone from about 2010. The Snom 320 phone has 12 programmable buttons and is simple like the old key phone system. This is a well built phone that can stand up to hard wear.